How To Update App - Samsung Galaxy Tab Pro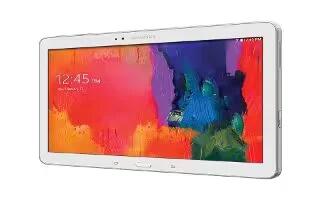 Learn how to update app on your Samsung Galaxy Tab Pro. Once you have registered your device and signed into your Google Account (see Create Google Account ), you may see the Updates Available notification in the Status Bar if there is a new version of one or more apps available or, when you open an application that is preloaded on your device, an Update Available message may be displayed.
To update the applications:
Touch the top of the screen and swipe downward. The Status Details screen displays.
Touch Updates available.
Uninstalling an App
Apps come pre-installed on your device and you can download additional apps from Google Play. If you decide to, you can uninstall apps you downloaded from Google Play and other sources. There are several ways to uninstall an app:
From a Home screen, touch Apps icon > Settings icon > General tab > Application manager.
Touch the DOWNLOADED tab.
Touch the app you want to uninstall.
Touch the Uninstall button. A pop-up displays the message Application will be uninstalled.
Touch OK to confirm you want to uninstall the app. You can also use Google Play to uninstall apps you downloaded from there Play Store App.
Note: To uninstall updates to pre-installed apps, touch the app and touch Uninstall updates. A pop-up displays the message All updates to this Android system app will be uninstalled. Touch OK to uninstall the updates.
To uninstall an app from the Apps screen:
From a Home screen, touch Apps icon.
Touch Menuicon > Uninstall/disable apps to display the Uninstall screen.
or
Touch Download icon and then touch Menuicon > Uninstall. A - icon appears on Apps that can be uninstalled or disabled.
Touch an apps icon and then touch OK to uninstall and remove the app from your tablet.
Note: You cannot uninstall pre-loaded apps. You can only uninstall the apps you have downloaded.
GPS Applications
GPS applications allow you to achieve real-time, GPS-enabled, turn-by-turn navigation and to access local searches based on a variety of category parameters. To receive better GPS signals, avoid using your device in the following conditions:
Inside a building or between buildings
In a tunnel or underground passage
In poor weather
Around high-voltage or electromagnetic fields
In a vehicle with tinted windows
Global GPS turn-by-turn navigation, mapping, and Point of Interest content is available for three areas, including North America, Western Europe, and China, where wireless coverage is available.
Note
This guide will work on all Samsung Galaxy Tab Pros; including Samsung Galaxy Tab Pro 8.4, Samsung Galaxy Tab Pro 10.1 and Samsung Galaxy Tab Pro 12.2