How To Share Images Via Group Cast On Samsung Galaxy Note 2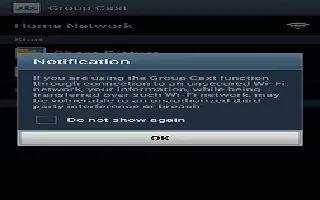 You can screen share images through Group Cast on Samsung Galaxy Note 2.
Note: Verify all of your recipients are connected to the same Wi-Fi.
From the Home screen, tap Apps icon > Gallery icon.
Tap Share > Group Cast.
Enter a security PIN and tap Done. This process makes sure only desired recipients can view your shared image.
Re-enter you PIN and tap Done.
Recipients must launch AllShare Play on their devices. Your device then waits for other connected recipients on the same Wi-Fi network to accept the connection and enter the PIN on their screens.
or
Tap Start Group Cast anyway to continue the process while your users connect.
Other users will have to activate their Group Cast functionality and then select the current Group and enter the correct PIN code.
You can now interact and draw with the on-screen image, users will instantaneously see the same gestures and also be able to interact.
Note: The newly altered image (with markups and comments) can not be saved, but you can take a screen shot of the current image and save it to your Clipboard. For more information, refer to How to use Gestures.