How To Setup Samsung Galaxy Note 2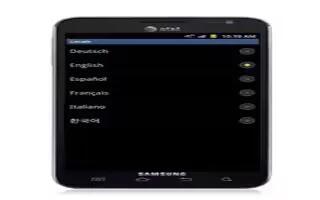 You have to setup your Samsung Galaxy Note 2; initially configure your device to make it efficient.
Tap Accessibility if you are visually impaired or have difficulty hearing. This action allows you to alter the accessibility settings for better use.
Select a language from the associated field. English is the default language.
Tap Next.
Note: You may be prompted with a notification that your activation is completed.
If prompted, connect to an active Wi-Fi network.
If you have previously created a Samsung account, tap Sign in.
or
If this is your first time, tap Create new account.
or
Tap Skip to continue and setup the account later.
At the Got Google? screen, tap either Yes to sign into your existing Google account, or No to create your new Google account.

If you select No, you can either create a new account or choose Not now to continue the setup process without an account.
If prompted, read the Google Terms of Service agreement and tap OK.

If prompted after sign in to Set up credit card and enable purchases, enter your credit card information and click Save.
or
Click Not now to continue without entering this information.
When prompted, select/deselect the desired Google location services and tap Next icon.
Note: Enabling Google location services can drain battery power.
When prompted, select your Backup and Restore settings by placing a checkmark alongside the associated field and tap Next icon.
If prompted, enter a First and Last name then tap Close icon to close the on-screen keyboard and Next icon. This will help to identify this as your device.
Read and agree to the Dropbox account setup information and tap either Create a new Dropbox account or I already have an account and follow the on-screen instructions.
or
Note: Once you decline the initial Dropbox setup offer, you will not be prompted again.
If prompted with an Optional setting, tap Enable easy mode setup? and follow the on-screen instructions to configure your Home screen mode.
Tap Finish to complete your configuration process.
Read the on-screen System Manager Application information.
Note: This software collects only diagnostic data from your device
Select either More Info.. (to read additional information) or Close to close the message screen.
Note: Selecting Close only closes the current description screen and does not disable data collection. To disable data collection, go to Settings > Back up and reset > Collect diagnostics and turn off the Allow Diagnostics feature.
Go through the on-screen tutorial.