How To Setup iCloud - iPhone 5S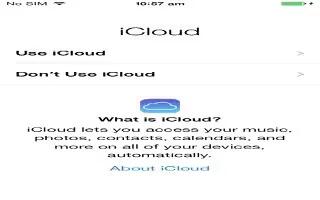 Learn how to setup iCloud on your iPhone 5s. iCloud stores your content, including music, photos, contacts, calendars, and supported documents. Content stored in iCloud is pushed wirelessly to your other iOS devices and computers set up with the same iCloud account.
iCloud is available on devices with iOS 5 or later, on Mac computers with OS X Lion v10.7.2 or later, and on PCs with the iCloud Control Panel for Windows (Windows 7 or Windows 8 is required).
Note: iCloud may not be available in all areas, and iCloud features may vary by area. For more information, iCloud.
iCloud features include:
iTunes in the CloudDownload previous iTunes Store music and video purchases to iPhone for free, anytime. With an iTunes Match subscription, all your musicincluding music youve imported from CDs or purchased somewhere other than iTunes Storeappears on all of your devices and can be downloaded and played, on demand.
Apps and BooksDownload previous App Store and iBookstore purchases to iPhone for free, anytime.
BackupBack up iPhone to iCloud automatically when connected to power and Wi-Fi. All iCloud data and backups sent over the Internet are encrypted.
Find My iPhoneLocate your iPhone on a map, display a message, play a sound, lock the screen, or remotely wipe the data. Also lock the activation of iPhone to your Apple ID account. Require your Apple ID and password before anyone can erase or reactivate your iPhone.
iCloud TabsSee the webpages you have open on your other iOS devices and OS X computers.
Find My FriendsShare your location with people who are important to you. Download the free app from the App Store.
With iCloud, you get a free email account and 5 GB of storage for your mail, documents, and backups. Your purchased music, apps, TV shows, and books, as well as your photo streams, dont count against your available space.
Sign in or create an iCloud account, and set iCloud options. Go to Settings > iCloud.
Purchase additional iCloud storage. Go to Settings > iCloud > Storage & Backup, then tap Buy More Storage or Change Storage Plan. For information about purchasing iCloud storage, see iCloud Help.
View and download previous purchases.
iTunes Store purchases: You can access your purchased songs and videos in the Music and Videos apps. Or, in iTunes Store, tap More, then tap Purchased
App Store purchases: Go to App Store, tap Updates, then tap Purchased.iBooks Store purchases: Go to iBooks, tap Store, then tap Purchased.
Turn on Automatic Downloads for music, apps, or books. Go to Settings > iTunes & App Stores.
For more information about iCloud, seeiCloud. For support information, see iCloud Support.