How To Record food Intake - Samsung Galaxy Alpha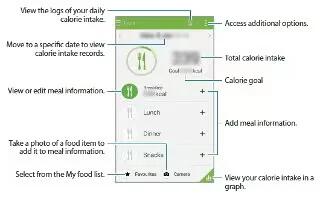 Learn how to use record food intake on your Samsung Galaxy Alpha. Record your daily food intake and mange your calorie consumption.
Tap App icon > Food.
Tap + icon next to the meal.
Enter the meal information and tap Done.

To search for a food, tap Search and select it from the search results.
To select from a food list sorted into categories, tap Category.
To select from the frequently-eaten foods, tap Frequent.
To select from the My food list, My food.

Enter additional food information and tap Save. The food information is recorded as your calorie intake for the meal. Tap Menu icon use the following functions:

Daily calorie goals: Change your daily calorie intake goal.
My food: Enter the frequently-eaten foods.
Reset daily data: Reset the daily calorie intake data.
Share via: Send the current page to others.
Settings: Configure settings for S Health.
User manual: View more information about using this feature.
Note: Use the calorie information in Food for personal reference only. The data provided may not be accurate at all times and is subject to change. Some food information may differ from actual calorie levels.
Viewing calorie intake in a graph
Compare your calorie intake records for a period by viewing them in a graph.
On the Food main screen. Entering information about frequently-eaten food
Save information about food that you eat frequently. You can quickly update your calorie intake by adding saved food information instead of entering the information each time you eat it.
Tap + icon > My food.
Tap Add food item, enter the food name and its calorie information, and then tap Save.
Enter the amount that you eat and tap OK.
To record intake food information from the frequently-eaten food list, My food, select the added food, and then Done.
Tap Save.