How To Make Passwords Visible - Samsung Galaxy Note 3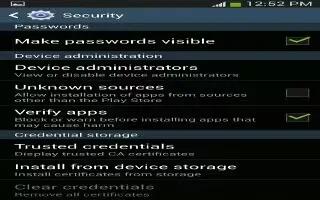 Learn how to make passwords visible on your Samsung Galaxy Note 3. The Security settings allow you to determine the security level for your phone. When enabled, password characters display briefly as you touch them while entering passwords.
From the Home screen, tap Apps > Settings > General > Security.
Tap Make passwords visible to create a checkmark and enable or disable the display of password characters.