How To Make Calls - Nokia Lumia Icon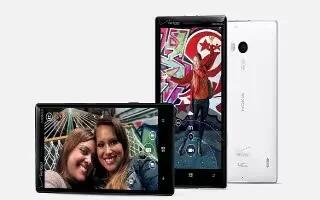 Learn how to make calls on your Nokia Lumia Icon. Contact your friends and family, and share your files, such as photos, using your phone. Stay tuned with the latest updates to your social networking services even when on the go.
Calls
Want to make calls on your new phone and talk to your friends? Read on and youll learn how.
Call a contact
Calling your friends is quick and easy when youve saved them as contacts in your phone.
Tap Call icon > End Call icon.
Tap the contact and the number.
Note: Is your friends voice too loud or quiet? Press the Volume Keys to change the volume. Want to let others hear the conversation? Tap speaker.
Call a phone number Tap Call icon > Message icon, type in the phone number, and tap call.
To type in the + character, used for international calls, tap and hold 0.
The + character only works from abroad. The + character may not work in all regions. In this case, enter the international access code directly.
Copy and paste a phone number
Tap and hold the phone number, tap copy, and in a text box, tap Copy icon.
View your call history
Tap Call icon.
To remove a call record, tap and hold the call record, and tap delete item. To remove all the call records, tap . . . > delete all.
To search for a call record, tap Call icon > Search button, and type in the contacts name or phone number.
Use your voice to make a call
You can use your voice to call a contact.
Press and hold Start button.
Say Call and the contacts name. To cancel, press Back button.
Note: You can also use voice dialing with a Bluetooth headset.
This feature may not be available in all languages.
Silence an incoming call
If your phone rings when you dont want to be disturbed, you can silence your phone. Tap Settings icon > audio, swipe left, and switch Flip to silence to On icon.
When someone calls you, press the Volume Key or turn your phone face down.
Note: Want to silence your phone quickly? Press the Power/Lock Key.
Call the last dialed number
Still have some words to say to your friends? Call them again. In the call history view, you can see info about the calls you have made and received.
From the Start screen, tap Call icon.
Tap End Call icon next to the name or phone number.