How To Lock And Unlock Screen - Huawei Ascend Mate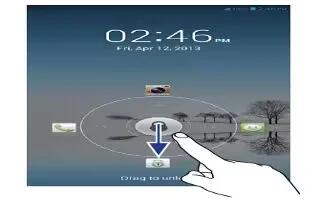 Learn how to lock and unlock screen on your Huawei Ascend Mate. Locking the screen not only prevents your phone from carrying out undesirable operations when you are not using it, but also protects it from unauthorized use.
You can lock and unlock your screen in a number of ways. The pre-installed screen unlock method is used as an example in this section. Locking the screen
Press Power button to lock the screen.

After being idle for a specified period of time, your phone automatically locks its screen.

To set the screen lock method, touch on the home screen. On the displayed General tab, touch Settings icon Screen lock.
Unlocking the screen
If the screen is off, press Power button to wake it.

Drag Unlock icon down to unlock the screen.
Note: Drag Unlock icon left or right towards an application to open it.