How To Improve Battery Life - iPad Mini 2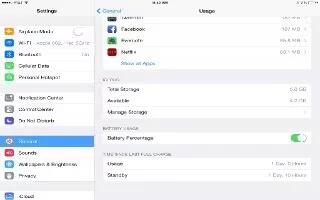 Learn how to improve Battery Life on your iPad Mini 2.You might have noticed that your iPad Mini 2 battery life falls short based on your usage pattern. We take a look at how to manage your new iPad Mini 2 battery life and also provide some tips on how you can extend it. If you listen to music while surfing the internet then your iPad Mini 2 will drain out even more quickly and a lot depends on whether youre connected to a 4G/LTE network or a Wi-Fi network.
You can check out the usage and standby time since the last full charge via the Settings app (launch the Settings app, tap on General, then tap on Usage, scroll down to Time since last full charge section). You can also tap on Cellular Usage to find out how much time you were on the call.

Usage is the amount of time iPad has been awake and in use since the last full charge. The ipad is awake when youre on a call, using email, listening to music, browsing the web, or sending and receiving text messages, or even during certain background tasks such as auto-checking email.
Battery Percentage
By default, iOS displays the battery level in the top right corner of the status bar. You can keep track of the charge remaining in your iPad more easily by enabling the battery percentage indicator, which displays the battery left in percentage. To display the battery percentage indicator, launch the Settings app, tap on General, then tap on Usage, scroll down and tap on the Battery Percentage toggle to enable it.
Tips to extend battery life of iPad Mini 2
Set Auto-Lock
Set Auto-Lock interval so that your iPad will turn off more quickly after a period of inactivity. To set the auto-Lock interval, launch the Settings app, tap on General and then Auto-Lock and set the atuo-lock interval to either 1, 2, 3, 4 or 5 minutes.
Turn off Wi-Fi when not in use
Youre probably aware that using Wi-Fi drains iPad's battery, but perhaps you didnt know that one of the most intensive processes that iPads Wi-Fi chip has to do is search for available network. So if this happens in regular intervals, its going to have a noticeable impact on your battery. To disable this feature, launch the Settings app, tap on Wi-Fi, and tap on the On/Off toggle for Ask to Join Networks to disable it. Please note that by disabling this feature, your iPad will join known Wi-Fi networks automatically, but you will have to manually select a network if no known networks are available.
Turn off Auto Brightness
Dimming the screen helps to extend battery life. You can either lower the default screen brightness based on your preference or turn on Auto-Brightness to allow the screen to adjust its brightness based on current lighting conditions. Launch the Settings app, scroll down and tap on Brightness & Wallpaper and set Auto-Brightness to On. Note: Apple enables it by default. If you want further improvement Turn off Auto-Brightness Settings and Dim the settings by swiping it to some level that you can able to see what is on the screen.
Turn off LTE
Turn off LTE if it is not available in your area Settings > General > Cellular > Enable LTE. You can turn it off if youre not using it and turn it on again while using.
Turn off Location Services
Turn off Location services for the following System services:
Diagnostics & Usage, Setting Time Zone, Location Based iAds Settings > Privacy > Location Services > System Services.
While many of the services offered in iOS are extremely useful, they can also eat up battery life when turned on. We recommend shutting down two of these in particular if you wish to conserve battery life on your iPad Mini 2. Location Services is the feature in iOS that uses GPS and crowd-sourced Wi-Fi to constantly determine your location. This is a particularly useful feature in the Maps application but it also is used by an assortment of other third-party apps. Turning this off could help save battery life.
To turn off Location services; go into Settings. From there, scroll down to Privacy. Tap that and then tap Location Services at the top. At the top of the next page is a toggle where you can flip Location Services to Off.
Turn off Widgets
You can turn off widgets and it will save some power and help you to extend your battery.Turn off Weather and Stock widgets from Notification Center. Go to Settings > Notifications > Weather Widget/Stock Widget > Notification Center. How to Optimize Settings on your iPad Mini 2 to improve battery life
iPad Mini 2 offers tons of features, but some of the features comes at the cost of battery life, so it is prudent to turn off things that youre not using.
Turn off Bluetooth
If you hardly use Bluetooth then turn it off Settings > General > Bluetooth Location Services

Review the list of apps that are using Location services, and disable it for apps you think can be used without tracking your location. Go to Settings > Privacy > Location Services.
Push Mail
If you check multiple email accounts on your iPad, enable Push for only the most important email account/accounts. For other accounts, fetch emails manually if possible for better battery life.
These days most apps use Push Notification service to alert you of new data, which can impact battery life. We tend to blindly say Yes, when an app asks us if it can send Push notifications. So it is a good idea to review the apps that have push notifications enabled. Go to Settings > Notifications and disable notifications for select apps. Please note that it doesnt prevent new data from being received when the app is opened.
Siri
Turn off Siris Raise to Speak feature if you dont use it frequently. Go to Settings > General > Siri > Raise to Speak.
Turn off Siri if you dont use it Settings > General > Siri. You can turn it on again if you want to use.
Personal Hotspot
Turn off Personal Hotspot if youre not using it. Go to Settings > Personal Hotspot.
Music Player Equalizer
Turn off equalizer setting for song playback. Go to Settings > Music > EQ.
Alternate Ways to extend battery life on iPad Mini 2
If you observe a sudden degradation in battery life, it could be due to an app that is hogging your iPads battery life. If you havent restarted your iPad for a while then the easiest solution is to reset your iPhone.
Force an app to close: If youve identified the app that may be hogging your iPhones battery life then force it to close. Hold down the Sleep/Wake button for a few seconds until a red slider appears, then hold down the Home button until the app closes. You can also remove an app from the app switcher to force it to close.

Restart/Reset Your iPad: Hold down the Sleep/Wake button and the Home button at the same time for at least ten seconds, until the Apple logo appears.

Resetting Network Settings: Reset network settings by tapping Settings > General -> Reset > Reset Network Settings. This will reset all network settings, including passwords, VPN, and APN settings.

Restore iPad as New: If youve setup your iPad mini 2 by restoring from backup then the battery life problems could be due to some issue with the backup. Try to restore your iPad Mini 2. Go to Settings > General > Reset > Erase All Content And Settings and set it up as a new iPad (this is not ideal). But before you erase all the contents and settings, please take a backup of your iPad.

Make a Genius Bar reservation: If there is a significant degradation in battery life and the solutions mentioned above doesnt help then take it to the Apple Store, it could well be a problem with your iPad, which may need to be replaced.

Heat can degrade performance of your iPads battery. So it is important to keep the iPad out of the sun or a hot car (including the glove box).

Airplane Mode: If youre on the plane or in an area where there is no cellular coverage then use Airplane mode to