How To Find My iPad App - iPad Mini 2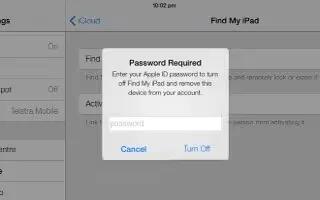 Learn how to find my iPad app on your iPad Mini 2. Find My iPad can help you locate and secure your iPad using the free Find My iPhone app (available in the App Store) on another iPad, iPhone, or iPad, or using a Mac or PC web browser signed in to iCloud. Find My iPhone includes Activation Lock, which makes it more difficult for anyone else to use or sell your iPad if you ever lose it. Your Apple ID and password are required in order to turn off Find My iPad or to erase and reactivate your iPad.
Turn on Find My iPad
Note: To use these features, Find My iPad must be turned on before your iPad is lost. iPad must be able to connect to the Internet for you to locate and secure the device.
Use Find My iPhone
Open the Find My iPhone app on an iOS device, or go to www.icloud.com/find on your computer. Sign in and select your device.
Play Sound: Play a sound for two minutes.

Lost Mode: You can immediately lock your missing iPad with a passcode and send it a message displaying a contact number. iPad also tracks and reports its location, so you can see where its been when you check the Find My iPhone app.

Erase iPad: Erase all the information and media on your iPad and restore it to its original factory settings.
Note: Before selling or giving away your iPad, you should erase it completely to remove all of your personal data and turn off Find My iPad Activation Lock. Go to Settings > General > Reset > Erase All Content and Settings.