How To Enter Text Using Swype - Samsung Galaxy S5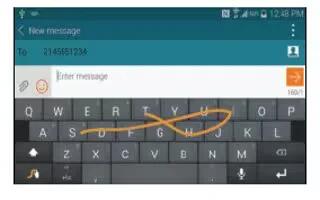 Learn how to enter text using swipe on your Samsung Galaxy S5. Swype is a text input method that allows you to enter a word by sliding your finger or stylus from letter to letter, lifting your finger between words.
Swype uses error correcting algorithms and a language model to predict the next word. Swype also includes a tapping predictive text system.
The following example shows how to enter the word This. Put your finger down on the T, and without lifting, glide it to the h, then to the i then over to the s.
Enabling and Configuring Swype
The Samsung keyboard is the default text input method, so to use Swype, you must first change the default keyboard setting.
To enable Swype:
From a screen where you can enter text, touch and drag Keyboard icon down from the Notifications area then tap Select input method.
Tap the Swype radio button. It will turn green. The Swype keyboard is displayed.
Swype Text Entry Tips
You can access the SwypeTips application and watch a video or tutorial on using Swype. You can also use the following Swype text entry tips.
Create a squiggle (like an S shape) to create a double letter (such as pp in apple).
Touch and hold a key to view the punctuation menu then make a selection.
Move your finger or stylus over the apostrophe to enter contractions.
Double-tap on the word you want to change to correct a misspelled word, then tap the delete key to erase one character. Touch and hold the delete key to erase an entire word.