How To Edit Photos And Trim Videos On iPad Mini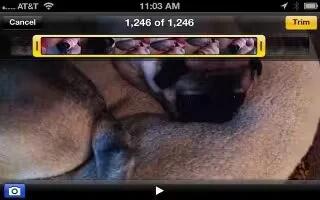 Learn how to edit photos and trim videos on your iPad Mini.
How to edit a photo on iPad
Edit a photo: While viewing a photo full-screen, tap Edit, and then tap a tool.
Auto-enhance: Enhancing improves a photos overall darkness or lightness, color saturation, and other qualities. If you decide against the enhancement, tap the tool again (even if you saved the changes).
Remove red-eye: Tap each eye that needs correcting.
Crop: Drag the corners of the grid, drag the photo to reposition it, and then tap Crop. To set a specific ratio, tap Constrain.
How to trim a video on iPad
Trim a video: While viewing a video, tap the screen to display the controls. Drag either end of the frame viewer at the top of the video, then tap Trim.
Note: If you choose Trim Original, the trimmed frames are permanently deleted from the original video. If you choose Save as New Clip, a new trimmed video clip is saved in your Camera Roll album and the original video is unaffected.
Note: This article will work on all iPads using iOS 6; including iPad Mini, iPad 2, The New iPad (iPad 3), iPad 4 (iPad with Retina display).