How To Customize - iPhone 6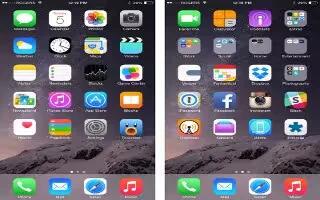 Learn how to customize your iPhone 6.
Arrange apps
Touch and hold any app on the Home screen until it jiggles, then drag apps around. Drag an app to the edge of the screen to move it to a different Home screen, or to the Dock at the bottom of the screen. Press the Home button to save your arrangement. Create a new Home screen
While arranging apps, drag an app to the right edge of the last Home screen. The dots above the Dock show how many Home screens you have, and which one youre viewing.
You can also customize the Home screen using iTunes, when iPhone is connected to your computer. In iTunes, select iPhone, then click Apps.
Start over
Go to Settings > General > Reset, then tap Reset Home Screen Layout to return the Home screen and apps to their original layout. Folders are removed and the original wallpaper is restored.
Create a folder
While arranging apps, drag one app onto another. Tap the name of the folder torename it. Drag apps to add or remove them. Press the Home button when you finish. You can have multiple pages of apps in a folder.
Delete a folder. Drag out all the appsthe folder deletes automatically. Change wallpaper:
See more on How To Change Wallpaper.
Adjust the screen brightness
Go to Settings > Display & Brightness, then drag the slider. If Auto-Brightness is on, iPhone adjusts the screen brightness for current light conditions using the built-in ambient light sensor. You can also adjust the brightness in Control Center.
Dim the screen to extend battery life, or use Auto-Brightness.
Display Zoom
You can magnify the screen display. Go to Settings > Display & Brightness. Tap View (below Display Zoom), choose Zoomed, then tap Set. For additional zoom features, see How To Use Zoom Option.
Note: Refer here for more information on iPhone 6.