How To Customize Home Screen - Samsung Galaxy Note 4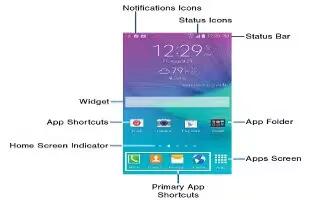 Learn how to Customize Home screen on your Samsung Galaxy Note 4. Customize your Home screen by adding application shortcuts, widgets, folders, and using wallpapers.
Manage Home Screens
Your device comes with multiple Home screens by default, and you can add additional screen. You can also rearrange the Home screens in a different order.
From a Home screen, pinch the screen.
or
Touch and hold an empty space on the screen.
Use these options to manage screens:
Add a screen: Scroll to the end of the screens, and then tap Add icon.
Remove a screen: Touch and hold on a screen, and then drag it to the Delete icon.
Set a screen as the main Home screen: Tap Main Home Screen at the top of a screen. This screen displays when you press the Home key.
Change the order of screens: Touch and hold on a screen, and then drag to a new position.
Touch Home screen settings for options:
Transition effect: Change the visual effect used when you move between Home screens.
Flipboard Briefing: Display all Flipboard Briefing updates on the Home screen.
App Shortcuts:
Widgets:
Folders:
Change Wallpaper: