How to Customize Home Screen - LG G2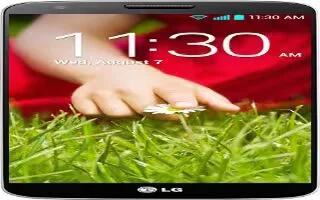 Learn how to customize home screen on your LG G2. You can customize your Home screen by adding quick access items, such as shortcuts to an application, widgets, or changing the wallpaper.
Apps: Add shortcuts to applications on the Home screen.
Widgets: Add dynamically updating widgets to your Home screen to allow quick access to applications without opening the full application
Wallpapers: Change the Home screen wallpaper.
To add shortcuts to apps or widgets on the Home screen:
Select a location (Home screen canvas) to add an item by swiping the Home screen from left to right or vice versa.
Touch and hold an empty part of the Home screen.
Tap the type of item you want to add on the screen: Apps or Widgets.
Tap the desired app or widget.
You will see a new icon on the Home screen. To place it on a different canvas, touch and hold it to drag it to the desired location and release your finger from the screen.
Note: To add a preloaded application or an application you have downloaded from Play Store to the Home screen, simply touch and hold the icon you want in the Apps screen and drag it to the desired Home screen canvas.
Note: If there is no available space on a particular Home screen panel, you must delete or remove an item before you can add another item. In this case, you have the option of switching to another Home screen panel.
To delete an application icon from the Home screen, touch and hold the shortcut icon or widget you want to delete and drag to Remove icon at the top of the screen. When remove icon changes to Activated Recycle bin icon, lift your finger. You cannot delete the preloaded applications. (Only their icons can be deleted from the screen).
Customizing apps icons on the Home screen
You can create your own custom application icon(s) using the images in your Gallery.
Touch and hold an application icon until its unlocked from its current position. Then drop it on the screen. The editing icon will appear in the upper right corner of the application.
Note: If an icon you placed can be resized, you will see a blue box around the icon after you touch, hold and release it. Drag the edges of the box to resize it. Tap the application icon.
Tap the icon design you want from the available Theme icon choices and change the size (if desired), then tap OK.
or
Tap Photo icon, then tap Add new. Set the size for the icon, then tap OK. Select the image want to use for the application. Crop the image if necessary, then tap OK. Note:
Your customized application icon(s) are only applied to icons on your Home screen. The Applications screen is not affected.
Your custom photo icons are saved so you can easily select them for any of your icon images.