How To Customize Email Settings On Samsung Galaxy Note 2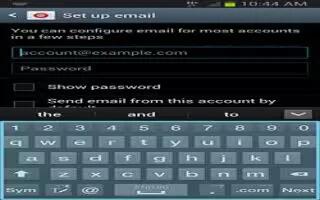 You can customize email settings on Samsung Galaxy Note 2.
From the Home screen, tap Apps icon > Email icon.
Select an account.

Press Menu key and then tap Settings > <Account>.

Alter any of the following settings:

Account name: displays your uniquely created account display name.
Your name: displays the name used in the From field of your outgoing email messages.
Signature: Lets you attach a customized signature to the bottom of all outgoing emails.

In a single motion touch and slide the Signature slider to the right to turn it on.
Tap the Signature field, change the current text, and tap Done to save the new signature.
Default account: Assign this account as the default email account used for outgoing messages.
Always Cc/Bcc myself: allows you to include your own email address in either the CC, Bcc, or None fields. Lets you always receive a copy of outgoing emails.
Forward with attachment: Lets you include attachments when forwarding an email.
Recent messages: adjusts the number of on-screen messages shown in the current category list at any one time.
Show images: allows you to view embedded images located within the body of the currently displayed email.
Security options: allows you to configure email security settings. Choose from: Encrypt all outgoing email, Sign all outgoing email, Create keys, Private keys, Public keys, and Set default key.
Sync Email: enables automatic email synching between your device and the remote server.
Auto download attachments: allows the device to automatically download email attachments when an active Wi-Fi connection is detected. This process speeds up the process of downloading an emails attachment for offline review by not using a 3G or 4G network connection.
Size to retrieve emails: configures the incoming email size allowed to pass through to your phone automatically without user interaction. Emails with attachments larger than configured will have to be retrieved manually.
Auto resend times: enables the device to resend an outgoing email a specified number of times if delivery fails.
Sync schedule: allows you to control the email sync schedule on both Peak and Off-Peak times.
Email notifications: Activates the email notification icon to appear within the Notifications area of the status bar when a new email (Gmail, etc..) is received.
Select ringtone: Plays a selected ringtone when a new email message is received.
Vibrate: Activates a vibration when a new email message is received.
Incoming settings: Lets you specify incoming email settings, such as User name, Password, IMAP server, Security type, Port, and IMAP path prefix.
Outgoing settings: Lets you specify outgoing email settings, such as SMTP server, Security type, Port, Require sign-in, User name, or Password.
Note: Some the above options may not be displayed when using some Internet account types.