How To Customize Display Settings - Samsung Galaxy Note 3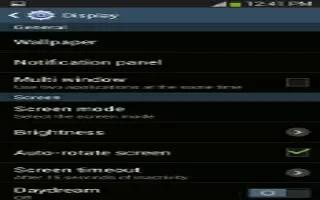 Learn how to customize display settings on your Samsung Galaxy Note 3. In this menu, you can change various settings for the display.
From the Home screen, tap Apps > Settings > Device > Display. The following options display:
Brightness allows you to configure the LCD Brightness levels.
Tap Automatic brightness to allow the device to self-adjust and tap OK.
- or -
Touch and slide the on-screen slider to adjust the level and tap OK. Screen timeout: allows you to adjust the delay time before the screen automatically turns off. Make an available selection. Choices include: 15 seconds, 30 seconds, 1 minute, 3 minutes, 5 minutes, and 10 minutes.
Touch key light duration: allows you to adjust the delay before the Touch key light automatically turns off.
Screen mode: allows you to select from several different color modes.
Reading mode: allows you to activate an optimized reading mode for selected applications. This menu allows you to assign available applications (such as Calculator, Camera, Contacts, etc...) for enhancement using the Reader mode. Tap the OFF / ON icon next to Reading mode to turn it on icon.
Auto adjust screen tone: adjusts the phones LCD brightness level to automatically adjust and conserve battery power.
Daydream: allows you to control what your screen does when your device is docked or sleeping. Tap the OFF / ON icon next to Daydream to turn it on icon. Follow the on-screen instructions.
Auto rotate screen when enabled, this feature, allows the device to automatically switch from portrait to landscape orientation and vice versa. When this setting is disabled, the device displays in portrait mode only.
Show battery percentage when enabled, displays of battery charge percentage atop the battery icon at the top of the screen.
Edit after screen capture when enabled, this feature takes you to the Edit screen after capturing a screen image.