How To Customize Call Options - iPhone 5C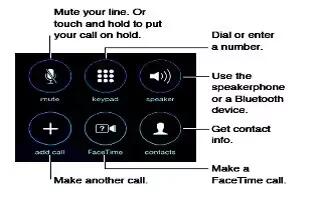 Learn how to customize call options on your iPhone 5c.
While on a call
When youre on a call, the screen shows several call options.
Use another app while on a call. Press the Home button, then open the app. To return to the call, tap the green bar at the top of the screen.
Respond to a second call. You can:

Ignore the call and send it to voicemail: Tap Ignore.
Put the first call on hold and answer the new one: Tap Hold Call + Answer.
End the first call and answer the new one: When using a GSM network, tap End Call +Answer.

With a CDMA network, tap End Call and when the second call rings back, tap Answer, or drag the slider if the phone is locked.
With a call on hold, tap Swap to switch between calls or tap Merge Calls to talk with both parties at once.
Note: With CDMA, you cant switch between calls if the second call was outgoing, but you can merge the calls. You cant merge calls if the second call was incoming. If you end the second call or the merged call, both calls are terminated.