How To Connect To USB – Huawei Ascend P7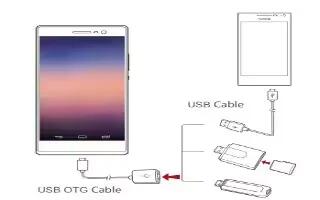 Learn how to connect to USB on your Huawei Ascend P7. You can connect your phone to a USB storage device directly using a USB OTG cable to transfer data. Compatible USB storage devices include USB flash drives, card readers, and phones that have a microSD card inserted.
Note: To purchase a USB OTG cable, please contact an authorized Huawei retailer or your device vendor.
To connect your phone to another phone, make sure that phone has a microSD card installed. To establish a connection and read data stored on the microSD card:
Use a USB OTG cable and USB cable to connect the two phones.
Turn on USB mass storage mode on the phone from which you want to read data.
On your phone, touch Folder icon > Local > USB to read data from the other phone's microSD card.
When you are done, touch Settings icon on your phone. Under All, touch Storage > Unmount USB storage.
Note: To connect your phone to other types of USB storage devices, use a USB OTG cable to connect your phone to the device, and touch Folder icon > Local > USB on your phone.