Garmins Montana GPS Rugged And Versatile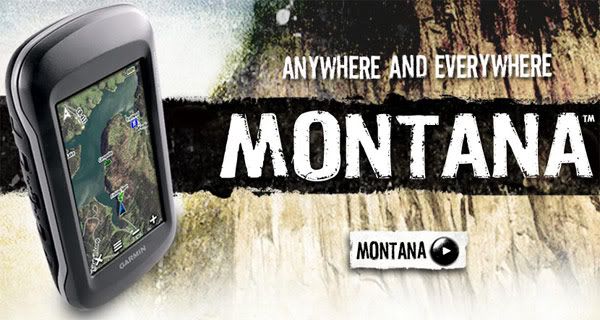 Montana, the GPS-makers new handheld series, offers three models, includes tow built-in with 5MP camera. The base model Montana 600 includes a 3-axis compass and 4-inch sunlight readable touchscreen display for $550, while the Montana 650 features a camera and costs $630 and Montana 650t pairs that camera with pre-loaded topographic maps costs $700. All models include a 16-hour battery or you can insert in three AAs for 22 hours. For more details read the press release.
Here is the Press Release
The Ultimate in Touchscreen Toughness: Garmin Montana Gives New Meaning to Rugged and Versatile
OLATHE, Kan./May 18, 2011/Business Wire - Garmin International Inc., a unit of Garmin Ltd. (NASDAQ: GRMN), the global leader in satellite navigation, today announced the Montana handheld GPS device the most advanced Garmin handheld featuring a ruggedized design with multiple mounting and battery options, dual-orientation and screen layout options and support for a wide range of Garmin cartography. It has a barometric altimeter for elevation profiling and ability to profile the route ahead using included worldwide elevation model. The included 3-axis compass gives it a heading while standing still or not held level. Montana's responsive touchscreen is a sprawling 4-inches and the photos taken by its 5-megapixel autofocus camera are displayed in sunlight-readable brilliant color. It's versatile. It's tough. It earned the name Montana.
"Montana was designed with the 'get dirty, go hard then go home crowd' in mind, who are always after adventure," said Dan Bartel, Garmin's vice president of worldwide sales. "We now have one device to fulfill all of your rugged GPS needs. From navigating waterways in your boat and traversing the back country in your ATV, to hiking the Austrian Alps and even receiving spoken turn-by-turn directions on the way to the grocery store, Montana has the versatility and mapping compatibility to do what you need it to."
Anywhere and everywhere: With Montana's new ruggedized design there is no longer a need to hold back, regardless of your adventure. Montana is fully waterproof and capable of withstanding all the mud and grit you can throw at it, even when connected to its optional powered mount. Use the power mount capability and City Navigator for spoken, turn-by-turn driving directions, or the rugged mount for your motorcycle or ATV. If you are on foot, simply plug headphones into Montana's 3.5mm audio jack to hear the spoken prompts. To see Montana in action go to, http://sites.garmin.com/montana/.
When it comes to mapping, Montana has you covered with support for Garmin's wide array of detailed topographic, marine, and road maps. Montana also supports BirdsEye Satellite Imagery (subscription required), that lets you download satellite images to your device and integrate them with your maps. In addition, Montana is compatible with Custom Maps, free software that transforms paper and electronic maps into downloadable maps for your device.
Stay powered: Montana offers two battery options to keep your device powered during remote hunting trips or other outdoor adventures. When you have a chance to rest and recharge each night, a thin, light weight lithium ion battery pack, lasting up to 16 hours, comes in the box. For those trips where you're off the grid, Montana also works on three AA batteries, giving users an additional 22 hours of use without being weighted down.
Go paperless: Montana supports geocaching GPX files for downloading geocaches and details straight to the unit. Montana stores and displays key information, including location, terrain, difficulty, hints and descriptions, which means no more manually entering coordinates and paper print outs! Simply upload the GPX file to your unit and start hunting for caches. Caches can be downloaded from OpenCaching.com, a completely free online community for creating, sharing and finding geocaches around the world.
While you are out searching for your next cache or trekking through untouched wilderness, capture locations and memories with Montana's 5-megapixel digital camera. Each photo is automatically geotagged with the location of where it was taken, allowing you to navigate back to that exact spot in the future. Snap and view pictures in landscape or portrait orientation. For more storage, insert a microSD card; you can even view pictures from other devices on microSD with Montana's picture viewer.
Montana is the latest breakthrough from Garmin, which has spent more than 20 years developing technologies and innovations to enhance users' lives, making Garmin a household name in the automotive, aviation, marine, wireless, outdoor and fitness industries. For more about features, pricing and availability, as well as information about Garmin's other products and services, go to www.garmin.com, www.garmin.blogs.com and http://twitter.com/garmin.
About Garmin International Inc.
Garmin International Inc. is a subsidiary of Garmin Ltd. (Nasdaq: GRMN), the global leader in satellite navigation. Since 1989, this group of companies has designed, manufactured, marketed and sold navigation, communication and information devices and applications most of which are enabled by GPS technology. Garmin's products serve automotive, mobile, wireless, outdoor recreation, marine, aviation, and OEM applications. Garmin Ltd. is incorporated in Switzerland, and its principal subsidiaries are located in the United States, Taiwan and the United Kingdom. For more information, visit Garmin's virtual pressroom at www.garmin.com/pressroom or contact the Media Relations department at 913-397-8200. Garmin is a registered trademarks and Montana is a trademark of Garmin Ltd. or its subsidiaries.