Double Twist Introduces Media Sharing Between Androids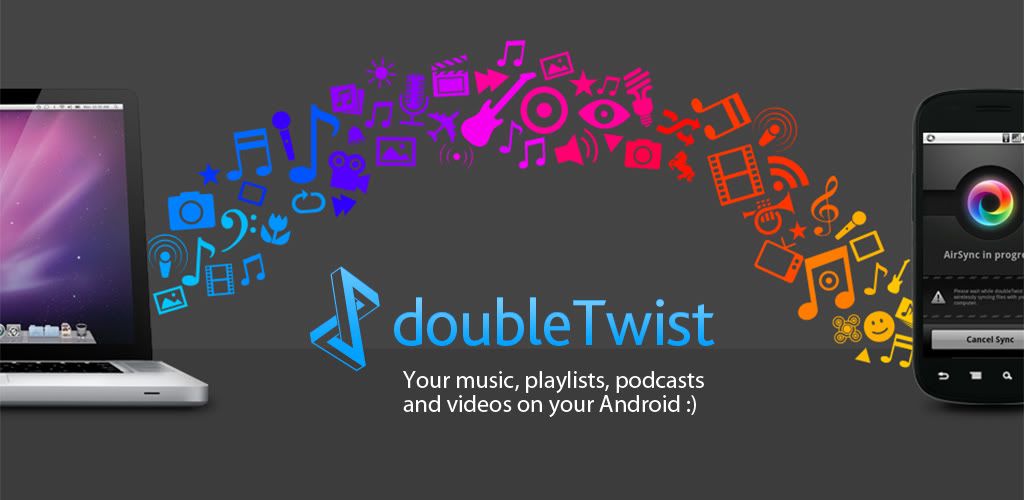 Double Twist introduces a media and mp3 sharing between two devices now. Play the video below on how DoubleTap works but basically you will need two Android phones with NFC, then tap them together and watch the file sharing magic happen automatically over Wi-Fi or Bluetooth. The new update went live in Android Market overnight, for more details read the press release and dont forget to check out the video
Here is the video
Here is the Press Release
doubleTwist introduces proximity-based media sharing for devices in the home
San Francisco, CA May 10th 2011
doubleTwist, the popular Android media platform with more than 1 million weekly active users, launched two new features for its Android app at Google I/O. This represents a major step forward in its mission to help users organize and enjoy their media across all of their devices as seamlessly and intuitively as possible.
doubleTap enables spontaneous sharing and enjoying of media using NFC
With doubleTap anyone can transfer a video or song between two NFC-enabled devices, such as the Nexus S, simply by tapping them together (photo support is coming soon).
Start playing a song or video in doubleTwist on your Android and tap it against another device. The files will be seamlessly transferred between the two devices using Bluetooth or WiFi.
doubleTwist brings AirPlay to Android for the digital living room
With doubleTwist, an Android device becomes a broadcaster for the devices in your digital living room. Expanding upon its current ability to stream to the Xbox or PS3 with AirTwistTM, "Twist To" enables users to enjoy their music, photos and videos on even more devices.
Using Twist To anyone can stream music, videos or photos from an Android device to an Apple TV or DLNA-enabled TVs. Users can also stream music to their Sonos devices (currently a beta feature).
When doubleTwist recognizes a compatible device on the same WiFi network and you start playing a song or video on your Android, you can stream to that device with a simple tap.
About doubleTwist Player
Declared by Newsweek as the #1 Android app for 2011, doubleTwist Player is the best all-in-one music, radio and video app for Android. Over a million people every week sync and play their iTunes playlists, podcasts and videos on their Android phone or tablet using doubleTwist.
About doubleTwist:
doubleTwist was founded in Oslo, Norway, by Monique Farantzos and Jon Lech Johansen (aka DVD Jon) and is headquartered in San Francisco. doubleTwist is backed by several prominent venture capital firms and individual investors, including Index Ventures, Horizon Ventures, and NorthZone Ventures.