Clickfree C2 Rugged Portable Hard Drive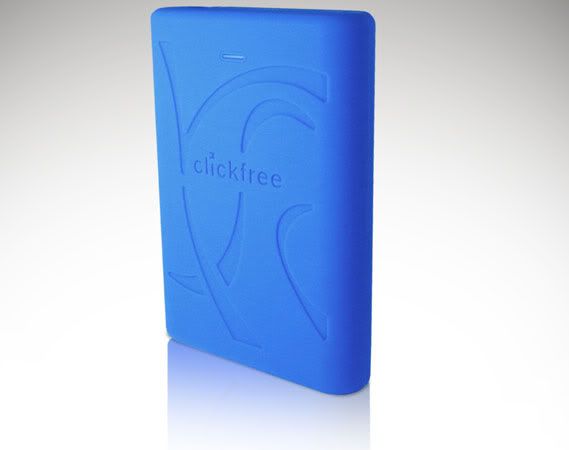 Clickfrees new C2 Rugged Back up drive capable of withstanding, the rubberized disk will continue to work after being dropped from four feet. It also features the companys Easy run software, which will automatically backing up your PC when you are done showing that storage device who is to. The 500GB C2 is now available now through Clickfrees site for $140 or $100, if you are booking it as within first 100 lucky persons, click on the source link to buy yours now, for more details read the press release.
Here is the Source link
Here is the Press Release
Clickfree Automatic Backup Introduces Rugged Portable Hard DrivesClickfree
C2 Rugged can survive the bumps and grinds of life in a student's backpackor a traveling professional's briefcase
Toronto May 19, 2011 Storage Appliance Corporation, the inventors of effortless automatic backup, today introduced the Clickfree C2 Rugged Back-up Drive, the world's only rugged portable back up drive with automatic set up and installation.
Built to strict U.S. military standards(1), the drive will continue to work after accidental drops from as high as four feet. Featuring a sturdy rubber outer sleeve and inner shock absorbers, it's the perfect drive for people on-the-go who want a simple and secure way to protect their photos, videos, music and other important files.
Easy to use, Clickfree products use a patented EASY RunTM feature to automatically start, search, organize and backup a computer's data as soon as they are connected to a PC or Mac. All a person needs to do is plug the Clickfree drive into their computer through a USB port. There is absolutely no set-up or configuration, as the device starts itself without any user involvement.
"The Clickfree C2 Rugged Portable Drive is especially useful considering today's mobile lifestyle," said Andrew Barrett, vice president of marketing for Clickfree. "Whether you are a student, traveling professional or a businessperson who works outside of a typical office or home environment, the C2 Rugged provides a simple and secure way to backup and protect irreplaceable computer data such a photos, music, email, or critical work files."
A great gift idea for Father's Day, dads will appreciate the ease of which they can securely back up their work files while traveling, without having to worry about the drive getting knocked about as they stuff their briefcases into cramped airplane compartments.
As a back-to-school tool for students of all ages, the Clickfree C2 Rugged is a perfect way to protect hours of research and homework assignments. Its rugged portable design means it's not limited to the dorm room; it can easily withstand being tossed around in a backpack, moving with a student from class to class. Now computer backup is one less assignment they need to worry about.
An ideal solution for many small business environments, it's ideally suited for life outside the traditional office -- such as the portables found on many construction sites or for field sales reps that commute from location to location, visiting the home office only occasionally. Clickfree C2 Rugged will protect their data even if the drive takes a four foot tumble off a desk or out of the car.
Clickfree C2 Rugged Portable Backup Drives includes patented technology that makes backing up content quick and easy:
EASY RunTM Just plug it in and Clickfree backup begins. Patented software requires no set up.
EASY Organizer Automatically finds your photos and organizes hundreds of file types for backup.
EASY Viewer View all backed up photos and files easily just like on the original computer.EASY Music Import music and playlists from any iPod, iPad or iPhone.
EASY Restore Your complete backup can be easily restored or transferred to a new or existing computer.