Bluetooth Keyboard Apes Backflip From AHX Global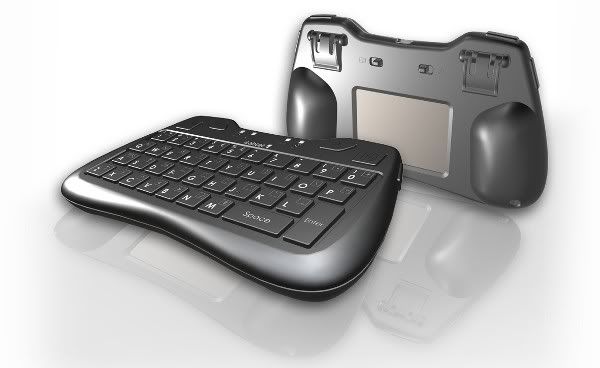 AHX Global is back with a product a thumb friendly Bluetooth keyboard. No capacitive touch screens here, just backlit QWERTY keys and a patented rear facing touchpad. You can order the inventively named Thumb keyboard now at the source link for 79.99 (approx. $132) but having only seen renders and considering the companys track record, The device is actually shipping yet. For more details read the press release.
Click here for your orders
Here is the Press Release
A NEW HANDHELD BLUETOOTH KEYBOARD WITH PATENTED REAR-FACING TOUCHPAD FROM AHX GLOBAL
The professional alternative to onboard virtual keyboards used on mobile devices
AHX Global has announced the immediate availability of the itablet Thumb Keyboard, a new Bluetooth keyboard with patented rear-facing touchpad. It is compatible with a wide range of Bluetooth-equipped devices including iPad, iPhone, tablet computers (Android & Windows) and mobile phones.
The itablet Thumb Keyboard is also compatible with many other Bluetooth-enabled devices including the latest interactive IPTV systems providing a convenient way for users to interact with screen content from the comfort of their armchair. In addition, it can be used with commonly used gaming platforms including the Sony PS3 and Nintendo XBox 360.
According to Francis Davis of AHX Global: "The Thumb Keyboard provides a fast and intuitive way to create emails, tweets, texts and documents. It is the perfect antidote to the awkward onscreen keyboards used to enter data and text into today's mobile devices that do not have proper keyboards."
The itablet Thumb Keyboard is battery operated and ergonomically designed to be comfortable to hold and easy to use at the same time. The patented rear-facing touchpad provides fast and accurate cursor control using either index finger, and the keys are backlit for use in low lighting conditions. The compact size of this new keyboard (5.9 x 3.5 inches) also means that it can fit into a standard tablet carry bag.
This new keyboard is available in black or white versions with US and UK keyboard layouts. Other commonly used keyboard formats will be launched in Q3 2011.
About AHX Global
Formed in 2010, AHX Global is a partnership between X2 Computing, one of the UK's leading suppliers of mobile computing solutions, and AMtek Systems, the leading Taiwanese designer of tablet computers which first registered the itablet trademark in 2004.